A knife is a valuable tool to have with you at all times. It has many uses but people do not usually bring one with them. Maybe because it's too heavy or too obvious when stuffed in the pocket, but not anymore with this deal for a Set of 2 Folding Card Knives.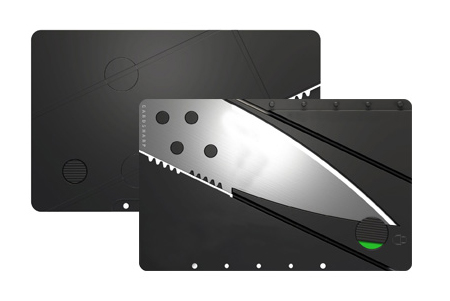 How many times have you needed a knife only to fail at finding one within the area? Sometimes, you just really need the convenience of one whether for cutting up rope, tearing up those tapes that seal shipment boxes, cutting up meat for when you're out camping, for light carving projects, for self-defense purposes, or for simply using one as a makeshift screwdriver when a tool box can't be seen anywhere within the place. This is where the Card Knife comes in handy. Most people wouldn't be bothered to carry a knife everywhere with them because it's bulky and people might give them funny stares. The Card Knife, however, is ultra-sleek and portable and can be folded to resemble the side of a credit card so you can just keep it in your wallet without worry.
Take advantage of this deal and get the Card Knife so you don't have to be caught without one during times you need it most whether you're indoors or outdoors.